Telling stories from photographs
Details

Published: 07 September 2020

07 September 2020
Old images give up their secrets
By Warren Nunn


Grace Helen Silver: born 20 Mar 1895, at Kooroongarra, via Millmerran, died 12 Feb 1897, at Kooroongarra. Click for larger view.
For anyone fortunate enough to have photographs of family members going back multiple generations, identifying people can be almost impossible.
Fortunately some images have names on them and others are recognisable from later pictures. Some even have the name and location of the studio.
The source of the images helps as well. For instance, I have images from my grandparents' property at Boolburra, some of which connect to my maternal great-grandparents James Silver and Janet Todd.
They had six children, including my mum's mother, Bella Dobbs (nee Silver). She was the eldest, but two of her sisters died before their second birthday.
Business name gives clue
Her younger sister, Grace, pictured at right, has been identified partly because of the photographer's name; "T.Mills (late A.Lomer & Co.) photographer, Ruthven St, Toowoomba".
Given that the business only started to advertise in 1895, (see http://nla.gov.au/nla.news-article218300889), there appears little doubt that this is indeed Grace Helen Silver.
Another image is that of twins Eva and Nettie Silver, who were born 18 November 1899, also at Kooroongarra.
Eva lived to be 98


Silver twins Eva and Nettie. Click for larger view.
It's obvious by the photograph that Eva was the more robust of the twins.
She lived to be 98, but Nettie, like her older sister Grace, did not see her second birthday.
It's a harsh reality for families that some children don't live through those early years.
It was more common 100-plus years ago without the medical help we now take for granted.
For James and Janet, it must have been a wrench to lose two of their first four children.
And the heartache did not end there because their youngest, James, died aged 34.
James and Janet eventually moved from Kooroongarra to Millmerran and then to Taringa in Brisbane.
Write comment (0 Comments)
Gertrude Duncan, the publican's daughter who became a hospital administrator
Details

Published: 29 July 2019

29 July 2019
The Red Lion Inn at Uckfield, Sussex in 1915. Image taken by visiting Scottish cousins.
Gertrude Duncan, the publican's daughter who became a hospital administrator
By Aberdeenshire Silver descendant Warren Nunn
Gertrude Duncan was an extraordinary woman. Born into a publican's family, she grew up to have a significant role in hospital administration in America.
Gertrude Duncan's parents Hellen and Alexander and her eldest sister Isabella most likely in late 1883.
Gertrude was the third daughter of Hellen Silver and Alexander Duncan and was my maternal grandmother Bella Silver's first cousin.
Gertrude's parents were from Scotland but lived mostly in England as her father moved around as a farm bailiff first in Wales and then in Bedfordshire, Cambridgeshire, Buckinghamshire and Surrey.
Alexander and Hellen married in 1882 in Scotland and the 1891 census has them living at Byfleet, Surrey.
The Duncan family moved from Wales to England after the eldest child, Isabella Margaret, was born at Aberayon, Glamorgan, Wales in 1883.
The next child, Hannah Watt, was born in 1885 at Leighton Buzzard, Bedfordshire.
Gertrude Agnes Helen was next born, in 1886, at Elton, Peterborough, Cambridgeshire.
Her birth was registered nearby at Oundle, Northamptonshire. The two places are about five miles apart.
The first son, Herbert John, was born in 1888 at Wansford, Northamptonshire.
His brother, Joseph Thomas Nicholas, the youngest of the Duncans was born in 1891 in Surrey where the family finally settled.
For at least some of their schooling, Gertrude and her sisters benefitted from the generosity of the Countess of Rosberry, Hannah de Rothschild, who provided free education at several schools she established.
The Duncan girls were at Mentmore, Buckinghamshire, until the family moved to Surrey in 1891.
Around that time Alexander left the farming life behind to become the publican at the Red Lion Inn on London Rd, Dane Hill, Uckfield, Essex.
The 1901 census entry for the Red Lion Inn, London Rd, Dane Hill, Uckfield, Essex, England. Note that Gertrude Duncan is not with her family on census night. She is with the family on the 1911 census as the next image shows.
The 1911 census for the Red Lion shows that Hellen is now widowed after Alexander died the previous year aged 67.
Gertrude is back with the family. No record is yet found of where she was in 1901.

Even though Gertude is with the family in 1911, according to the 1920 US census, she had emigrated to America in 1910, so she may have been only been visiting her family in 1911. The 1920 census shows that Gertrude was a student nurse at the Ellis Hospital in Schenectady, New York.
The 1920 census shows Gertrude Duncan at Ellis Hospital.
Gertrude was back in England in 1915 when her mother died. Along with her brother Herbert, who had emigrated to America in 1913, she returned to New York on the Lusitania leaving from Liverpool on 20 March 1915. Only a few weeks later, on 7 May, the ship was sunk by a German U-boat.
Gertrude Duncan and her brother Herbert, passengers on the Lusitania in March 1915.
From the bare facts it seems that Gertrude was otherwise engaged between the years she arrived in the US and when she is found at the Ellis Hospital in 1920.
On the Schenectady, New York, City Directory in 1928, Gertrude is, for the first time, known as the assistant superintendent of the Ellis Hospital.
Some of the student nurses at Ellis Hospital in 1920 when Gertrude Duncan was doing her training. There is no known image of Gertrude. Image courtesy of the Schenectady County Historical Society.
The 1940 census shows she is now 52, single, and is earning $2400 a year as the assistant superintendent of Ellis Hospital.
She had not completed any tertiary education.
Gertrude continued her association with the hospital for the rest of her life.
A newspaper article from the Schenectady Gazette in 1943 reports that Gertrude was attending the annual convention of the Association of American Hospital Administrators.
Gertrude was New York state's representative on the body.
In 1951, there is an article in The Troy Record that mentions Gertrude's ongoing association with the Ellis Hospital and as a medical administrator.
She had been secretary and treasurer of the Northeastern Hospital Association for several years.
In 1955, there is another mention of Gertrude's association with the hospital as she and her colleagues were planning a celebratory gathering.
Also in 1955, Gertrude made what may have been her last voyage to visit family back in England. She arrived back in New York from Southampton on the Mauretania on 24 May 1955.
Gertrude Duncan's entry in the 1928 City Directory. First mention of her being assistant superintendent at Ellis Hospital.
After 32 years at Ellis Hospital, Gertrude retired in 1953. Her final months were marked by illness and she passed away in Saratoga Hospital in October 1966 aged 79.
The following obituary appeared in Glens Falls Post Star on Monday 31 October 1966:
Miss Gertrude Duncan
Saratoga Springs-Miss Gertrude Duncan, 79, of 45 Greenfield Ave, died Friday in Saratoga Hospital following a long illness.
Formerly of Schenectady, she was a registered nurse and assistant director of Ellis Hospital, Schenectady, for more than 32 years until her retirement in 1953.
Miss Duncan was a communicant of St George's Espiscopal Church.
She is survived by a brother, Herbert Duncan of Burnt Hills, and several nieces and nephews.
The office for the burial of the dead and a memorial Eucharist will be celebrated at noon today by the Rev. Darwin Kirby Jr., rector, at St George's Espiscopal Church, Schenectady.
Write comment (0 Comments)
The life of Reverend Alexander Silver of Dunnottar
Details

Published: 26 July 2018

26 July 2018
By Aberdeenshire Silver descendant Warren Nunn
Reverend Alexander Silver was for about 40 years the spiritual leader of Dunnottar church near Stonehaven in Scotland. He was described as "many-sided and sterling in character".
He was a larger-than-life, quick-witted individual with a keen, hands-on interest in contributing to a community that highly valued Christian endeavour and dedication.
In 1829 he succeeded his older brother John as schoolmaster at Fordoun about 10 miles (16 km) from Dunnottar where he would afterwards see out his days as a pastor.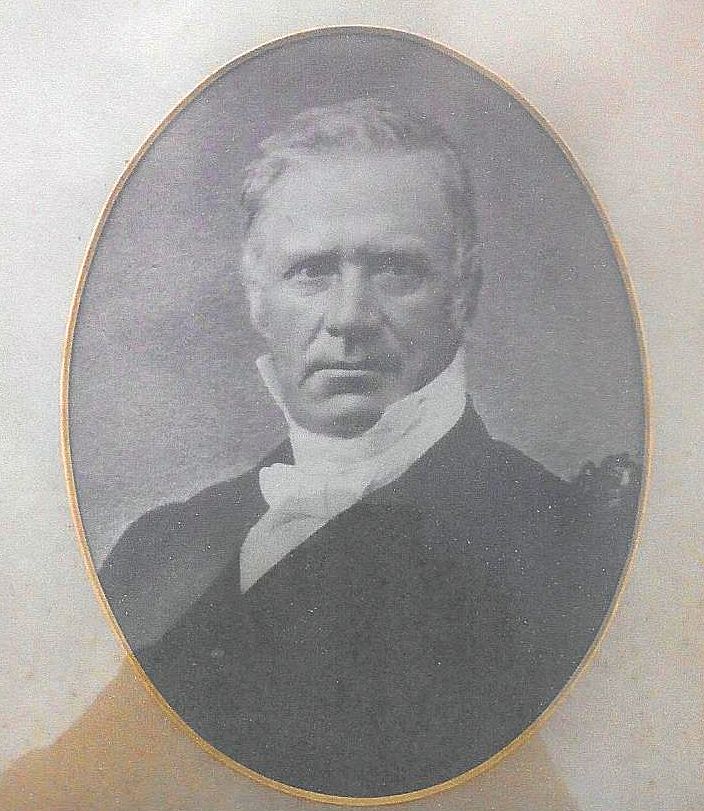 He was thrust into the role of schoolmaster when his brother was killed in an unfortunate accident that also took the life of another man.[1] Along with a third individual they were all thrown from a gig which hit a bridge near Glenbervie. As an aside, more than 30 years later Sandy Silver was also involved in a buggy accident.[2]
Sandy Silver was born in 1804 at Mill of Uras (south of Stonehaven) the youngest child of John Silver and Elizabeth Thomson. Research suggests he may have had four siblings: John (1793-1829), Jean (1795-unknown), Elizabeth (1798-1857) and James (1800-1865).
Rev Silver attended Marischal College, Aberdeen, between 1818 and 1822, graduating from the arts faculty filius Joannis agricolae.
Silver surname
The Silver surname has for hundreds of years been prominent throughout Aberdeenshire, particularly in Maryculter and Fetteresso parishes.
It can be difficult to place people in the correct family line because earlier records contained less information. A certain amount of guesswork is needed and it becomes even more complicated by the type of family naming patterns that were practised.[3]
If Rev Silver's family stuck to that protocol then his father John would have been named John after his father before him. It would have been the basis for Rev Silver's eldest brother John having that Christian name.
Confused? You should be because I can't be certain to which family he belonged because the two likely candidates prove hard to track. However I have concluded that Rev Silver's father was born in Fetteresso and was buried in Maryculter. See following footnote for my reasoning.[4]
Silver family connections
Is his parentage that important? Perhaps not, but I'm interested because of my connection to the Silver family in the district given my great grandfather James Silver (1863-1949) grew up a few miles from where Rev Silver was pastoring.
My best guess is that there would have been a family connection in a previous generation but it's unlikely I'll be able to prove it.
Nevertheless, Rev Silver's life is worth exploring and recording for posterity because of the impact he made in a life of public service which went beyond pastoral duties.
Alexander Silver ordained at Dunnottar
On 30 October 1844, the then 40-year-old Rev Silver was introduced to Dunnottar parishoners as their new minister in a ceremony attended by a large number of people despite what was described as unfavourable weather.[5]
It seems likely that Alexander Silver answered a call to pastor at Dunnottar because of the split that occurred within the Church of Scotland. It became known as the Disruption of 1843.
Rev Silver remained loyal to what was at the time known as the Established Church of Scotland, or what nowadays is broadly known as the Presbyterian denomination.
He thereafter gave the rest of his life to serving others. He did not marry, which was a little unusual for the time.
Several years later, Rev Silver is mentioned in connection with the Stonehaven National Security Savings Bank, an institution with which he was to be associated right up until his death.[6]
Educational focus
This became the pattern of his life. Along with his pastoral duties, Rev Silver was also committed to educating the district's children, a contribution that won him praise on more than one front.[7],[8]
His commitment to the community he served was an extension of his pastoral duties but he always held close to his heart the proclamation of the Gospel of Jesus Christ.[9]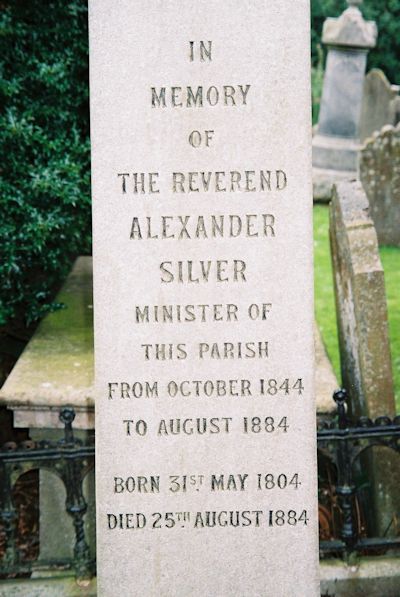 One of the measures of a man is any reflection on his life. When Rev John Watt spoke at Dunnottar church about Rev Silver's passing, he painted a vivid picture of a faithful and true Christ-like servant whose life calling it was to serve others. Rev Watt's address is worth reading and is below reproduced.[10]
The description of Rev Silver fits with and fleshes out what the bland public record tells us of his involvement in various organisations both commercial and public.
The Aberdeen Weekly Journal published a tribute which reinforced the high esteem in which the pastor was held.[11]
An extensive library
And there is added insight into his life found in the details of the sale of his possessions that included a library of about 1000 books.[12],[13]
Sandy Silver clearly understood his limitations and the march of time and the impact it was having on his duties as pastor.
He first revealed in 1878 that he needed help and that the parish should look for a successor.[14],[15] He even offered to forgo his stipend to effect the appointment.[16]
This almost brutal self-assessment showed how realistic Rev Silver was about himself and his abilities. He knew his body was giving out on him and so gradually withdrew from the more taxing tasks; the main one being that of pastor. It showed how seriously he took his calling and his determination to put others first in all things and allow the Lord to look after the rest.
Committed to his tasks up to final days
Still he remained as active as possible and, several weeks before his passing, recommitted to his involvement in the parish poorhouse. [17]
However, a few weeks later he suffered a stroke, lingered for 19 days and finally passed into the presence of the Lord he so faithfully served for so long. [18]

For Rev Alexander Silver, he knew the proof of that which he so faithfully preached; that to be "absent from the body was to be present with the Lord". For him, 2 Corinthians 5:8 had become reality.[19]
One thing for certain about Rev Silver is that his love of others and his willingness to give of himself was everlovingly expressed in his will which lists a number of relatives and friends who benefitted from his estate.[20] Again, it is a long and detailed document but worth reading through to gain a further insight to a man who lived out his life in line with his firm convictions that he was a sinner saved by grace.
Various other references to Rev Silver can also be read here.[21]
Fondly remembered long after his passing
More than 20 years after he passed away, Sandy Silver was remembered in an article that appeared in the Dundee Courier of 4 May 1908.[22]
The article "Men of the Mearns, Kincardineshire Wit and Humour" described an encounter at Stonehaven between Rev. Sandy Silver and an Aberdeen lawyer. The account is somewhat confusing and not really amusing and perhaps has much to do with the aforementioned divisions within the church. It describes a mild exchange between two people who were both about the Lord's business, but it underscores that Sandy Silver didn't take himself too seriously.
Later in 1908 there was another reference to Sandy Silver because of a wooden microscope he once owned that was a point of curiosity at a meeting of scientifically-minded men in Aberdeen.[23]
References and notes
Write comment (0 Comments)
Census with a Silver lining
Details

Published: 07 January 2018

07 January 2018
A Silver lining
Census records are a treasure trove of information for genealogists and can produce a number of 'yes!' moments of discovery.
As census-taking improved and more information became available, the task of tracking a person or a family was also made much easier.
Back in 1841 only basic details were provided such as place of residence and for those aged 20 or older, their age was rounded up or down five years. So while you could be somewhat sure you had the right family in 1841 you had to compare it with the 1851 census to have it confirmed. Mostly that works out.
As way of illustration, the follow is a transcript from the 1841 census for a farm named Crossley about 12 miles from Aberdeen in Scotland. The John Silver aged 60 is one of my great-great-great grandfathers. If interested you can click on the image at right for larger view.
1841 Crossley, Fetteresso, Kincardine, Scotland
John Silver, aged 60, farmer
Helen Silver, aged 55
Alexander Silver, aged 30, agricultural labourer
Jean Silver, aged 25, female servant
John Silver, aged 15, agricultural labourer
Isobel Falconer, aged 13, female servant
Robert Thow, aged 12, agricultural labourer
Elizabeth Taylor, aged 11, female servant
So what we have could be seen as just a list of names with ages and occupations. The next person to focus on is Alexander Silver, aged 30, who is my great-great grandfather in this line.
Because the 1841 census does not state whether a person is married or single, we have to refer to the 1851 census record or investigate marriage records to discover that.
Other people on the record to look at are Isobel Falconer, aged 13, a servant on the farm along with Robert Thow, aged 12, and Elizabeth Taylor, aged 11.
On the same page of this census entry the Silver family have as neighbours the Thow family and the Taylor family, also part of Crossley farm. Other information I have tells me that the Silver family leased Crossley, so the two other families could be joint tenants. My guess is that Robert Thow and Elizabeth Taylor were children from the neighbouring families.
But what about Isobel Falconer, aged 13? Where was she from? On the 1851 census, we find Isobel Falconer, aged 23, single, at Stripeside of Crossley with her family. Given Crossley and Stripeside of Crossley are in the same parish, we can assume they may have been neighbouring properties although that is not yet confirmed.
So the Silver family and the Falconer family most certainly were known to one another.
My Silver family is still at Crossley in 1851 where, by this time, my great-great grandfather Alexander Silver is aged 42 and still single. However in November 1851 Alexander did get married and this is a transcript of that parish record:
Maryculter marriages 1851: Silver and Falconer. Alexander Silver in this parish and Isobel Falconer in the parish of Feterresso were matrimonially contracted on the 28th November 1851 and after proclamation of banns were married on the 11th December 1851 by the Rev John Bowen, in presence of witnesses.
So now I discover that the Alexander Silver and Isobel Falconer who married in 1851 were in the same household in 1841, he as the farmer's son and she as a farm servant.
This is further confirmed by the 1861 census where we find Alex and Isobel and children at Burnside, most likely a neighbouring farm to Crossley. There are several farms named Burnside in Aberdeenshire but Burnside Farm, Maryculter, which is closer to the River Dee than other Burnsides is the likely place. And given that many of this Silver family were buried in Maryculter on the River Dee, it's reasonable to assume that they lived close by.
1861 census for Burnside Farm, Maryculter:
Alexander SILVER, aged 51, farmer of 60 acres born Maryculter, Kincardineshire
Isabel SILVER wife, aged 32, born Strachan, Kincardine
Helen SILVER dau, aged 8, born Maryculter, Kincardineshire
John SILVER son, aged 5, born Maryculter, Kincardineshire
Alexander SILVER son, aged 2, born Maryculter, Kincardineshire
Isabel M SILVER dau, aged 10 Mo, born Maryculter, Kincardineshire
John Copland 14
Harriet Findlay 19
John Irmay 15
Then, 10 years later, the family is back at Crossley.
1871 census for Crossley, Fetteresso, Kincardine:
Alexander Silver head married, aged 61, farmer of 150 Acres 80 Arable Employs 2 Men 2 woman born Maryculter, Kincardine
Isabella Silver wife married, aged 44 years, born Strachan, Kincardine
Hellen Silver daughter unmarried, aged 18, farmer's daughter Maryculter, Kincardine
John Silver son, aged 14, farmer's son Maryculter, Kincardine
Alexander Silver son, aged 12, scholar Maryculter, Kincardine
Isabella M Silver daughter, aged 10, Maryculter, Kincardine
James Silver son, aged 7, Maryculter, Kincardine
Ann Fraser servant, aged 16, domestic servant Fetteresso, Kincardine
Robert McKilligan servant unmarried, aged 29, Nigg
William Duncan servant, aged 14, farm servant Glatt? Aberdeenshire
So the 1871 reveals their youngest child is James Silver, who is my great-grandfather.
Alexander SILVER M, aged 71 M Maryculter, Kincardine, Scotland Rel: Head occ: Farmer Of 120 Acres 80 Arable Employs 2 Men 2 Girls 1 Boy
lsabella SILVER M, aged 53 F Strachan, Kincardine, Scotland Rel: Wife
Hellen SILVER U, aged 28 F Maryculter, Kincardine, Scotland Rel: Daur
John SILVER U, aged 25 M Maryculter, Kincardine, Scotland Rel: Son
Alexander SILVER U, aged 22 M Maryculter, Kincardine, Scotland Rel: Son
lsabella SILVER U, aged 20 F Maryculter, Kincardine, Scotland Rel: Daur
John ROBERTSON U, aged 14 M Banchory Devenick, Kincardine, Scotland Rel: Servant
We then go on to the 1881 census (above) where we find most of the family still together but my great-grandfather is missing. However, he is not far away on Cockley farm where he is apprenticed as a carpenter. As the youngest James proved to be the 'boldest' in that he left for Australia sometime about 1890 and married in Brisbane in 1892 to Janet Todd who hails from Kirkbrightshire, more than 200 miles by road from Aberdeen.
So, how did they meet? There is confusion over exactly where but Janet was in service somewhere in Scotland because she spoke about it to her grandchildren.
We can only assume that James Silver moved away from Aberdeenshire to find work as a carpenter and met Janet at some point because it is clear they both arranged to travel separately to Australia where they eventually married and had six children, five of whom survived to adulthood. Their eldest, Margaret Isabella, was my mum's mum.
So about 11 decades after a teenager named Isobel Falconer met and later married Alexander Silver, I came into the world and a series of circumstances led to my existence. In other reminder of the closeness of the family connections in that area, Isobel Falconer's sister, Mary Ann married Alexander Silver's first cousin James Silver, who also happened to be his second cousin.
This is where things getting really complicated but, of course, we genealogists love such discoveries. The Silver boys were maternal first cousins as their mothers were sisters and they were second cousins because their paternal grandfathers were brothers. Whew!
So, a few names and ages on a page soon becomes a family story. It's a story that's been repeated millions of times and underscores just how fortunate we all are to have a life.
Live it well … and do some genealogy to … there are rewards to be had.
Write comment (0 Comments)
Pocket watch mystery
Details

Published: 18 February 2017

18 February 2017
Piecing together this timepiece's journey
By Warren Nunn
This picture is of a pocket watch (or fob watch) manufactured sometime in the 1800s in Scotland with the name "Geo. Donald" inscribed on it.
It is in the possession of descendants of James Silver who grew up in Scotland and moved to Australia in 1890 when aged 27.
On the assumption that James Silver brought the watch with him from his home country; how then did it come into his possession?
When discussing this in 2017, James Silver's granddaughter June Nunn (nee Dobbs) suggested it may have been given in payment for work done.
James Silver was a carpenter who did his apprenticeship with a fellow named James Troup who lived at Cockley, Maryculter in the Aberdeenshire district.
James Silver grew up not far away both at Burnside farm and Crossley farm, both farms being within walking distance of each other and also a similar distance from Cockley farm.
According to the 1881 census, there was a George Donald who farmed at Drumoak about 3km away and just across the River Dee from where young James Silver was learning his trade.
So it is no stretch of credibility that James Silver at some point between 1881 and 1890 did some work for George Donald. And it is also a possibility that George gave James this watch in payment.
It would not have been an unusual thing at the time and still happens today where people trade their time for goods.
None of this can be proved, of course, and who's to say that the watch belonged to the same George Donald? However, the circumstantial evidence is compelling.
And there is a little twist to the scenario in that George Donald's daughter, Christina, married one of James Silver's distant cousins, Andrew Silver.
James Silver (born April 1863) and Andrew Silver (born December 1862) grew up about a kilometre apart and they would have known one another.
Write comment (0 Comments)